---
Giveaways
---
Congratulations to some of our most recent winners!
E-Cloth Cleaning Pack - Patricia H..
Fabric Budgeting System - Janet H.
Sunridge Snacks- Mayla M.
Magnetic Knife Dock - Darren P.
Check Back Often for Exciting New Giveaways!
Currently available:
Be sure to check out the Ultimate Baby Shower giveaway! Our post details all the great prizes available!
Enter for your chance to win an HP Sprout!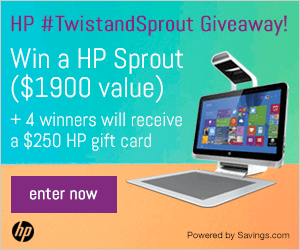 a Rafflecopter giveaway