---
Ideas for frugal, yet healthy snacks
Healthy Frugal Snacks
TDS Reader Solutions
---
Healthy, Inexpensive Snacks?
Can you give us some great snack foods for those that just want to lose weight and are easy and inexpensive?
MA
Fruits and Veggies
How about fresh fruit and vegetables? Or dried fruits? I often make trail mix with raisins, raw unsalted almonds, sunflower seeds, chocolate chips and small pretzels. Also, yogurt, homemade (and whole grain) muffins/cookies or popcorn. There are many low fat snacks out there, but it just takes some creativity and some time to make treats from scratch. It's a lot cheaper, too!
SCH
More Fiber and Bulk
Make sure snacks are healthy and above all low fat. Fat carries more calories per gram than other foods and is very prevalent in snack food choices. Avoid overly salty snacks, as the excess salt is very unhealthy. Look for foods high in fiber, water and bulk and low in fat, sugar and salt. Foods that are high in fiber and bulk will leave you feeling fuller. If you have chosen healthy, low fat, low sugar snacks, you can eat as much as you want without feeling guilty.
Try to make your snacks from scratch. You will know the ingredients, they will be healthier, and they will be cheaper. I recommend popcorn from a hot air popper or done in the microwave (not packaged microwave popcorn as these have lots of fat). Top it with butter flavored sprinkles such as Molly McButter or Butter Buds. You can also get some great fat free flavored powders, but these are kind of high in sodium.
Pretzels are good except they can be salty. Veggies are good. Cut up large quantities and store them ready to snack on. If you feel you need a dip, there are numerous fat free dip recipes on the Internet using fat free yogurt, low fat silken tofu or fat free mayonnaise. There are so many ideas out there. Try a web search on "low calorie snack" or "low fat snack" or "fat free snack"
Kelly
Dried Papaya photo from Shutterstock
A Tasty Treat
Cut a medium sized apple in half. Put one half in a bag in the refrigerator for another day. Cut out the core of the apple and throw it away. Cut up the rest of the apple into small pieces and put in bowl. Add 1 tablespoon of low calorie vanilla yogurt. Sprinkle with cinnamon. Add four chopped walnut halves and stir together. This makes a healthy, quick snack!
Kimberly
Cereals for Snacks
An idea for snacks is to think of cereal as being more than just breakfast food. You can purchase low fat cereals and package them into smaller portions. One box of cereal can make many, many servings. You can even add a few raisins or nuts to jazz it up a bit if the cereal is plain.
Elaine
Shakes Make Great Snacks
I make "Skinny Shakes". There is a basic recipe and many variations. The basic recipe is in approximation. Dump this all in your blender:
About 1/2 cup of skim or 2% milk
one banana, broken into pieces
a packet or two of Sugar Substitute
Then whiz until smooth and start dropping ice cubes into the mixture, one or two at a time. Keep adding the ice cubes until your shake is as thick as desired.
Delicious! For a variation, add fresh or frozen strawberries, chocolate syrup to taste, crushed pineapple, or a fresh peach. The possibilities are endless. Always include the banana. It makes the shake smooth and creamy.
GH
Need to be Convenient
For me, convenience is the most important factor in low-cal snacking. If my healthy, low-cal snacks require preparation or fussing before I can eat them, I'm likely to reach for the easier high-cal stuff instead.
I usually crave crunchy snacks, so I keep a bag of baby carrots in my fridge to take the place of potato chips. They make a pre-washed, peeled, crunchy finger food that's good for you. For me, they're a better snack choice than carrot sticks that I have to cut up. If I run out of the sticks, it is back to the easy high-cal snack foods. If you prefer other fresh veggies, then always have some cut up in the refrigerator. Keep grapes on hand (another crispy finger food) as well as apples and other fruits. Wash them as soon as you bring them into the house so they're ready to just grab and eat when the urge hits.
Try baked potato chips rather than regular ones, as well as some breakfast cereals. Keep sugar-free pudding or Jell-O (even better) prepared in individual servings in the refrigerator. Learn to make your own smoothies in the blender using low-fat yogurt, fat-free milk, cut-up fruit and wheat germ. I keep cut-up fruit in my freezer for this purpose. I hope these ideas help.
Nancy
A Unique Healthy Bean Snack
Buy a can of garbanzo beans and rinse them off and lay them out until they no longer drip. Put them in a gallon resealable bag along with garlic powder, parsley or any combination of favorite spices. Shake them up until fully coated. Put a brown bag on a cooking sheet and put your beans into an oven set for 150 until dry. Put into a tight container and they're healthier and better tasting than cornnuts.
Lois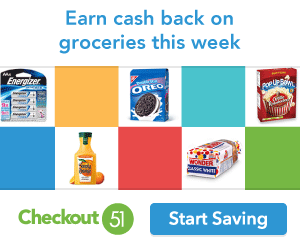 Easy and Quick Snacks
Here are some low-calorie ideas from Weight Watchers meetings:
Sugar-free, fat-free Jell-O with a dab of fat-free Cool Whip
Any fruit
Vegetable soup (made with Fat-Free Chicken or vegetable broth) made with any desired vegetable, basil, oregano, salt and pepper, and a tablespoon or two of tomato paste
Pretzels
A banana (frozen or not) drizzled with chocolate syrup and a dab of fat-free Cool Whip
Fat-free vanilla wafers
Fat-free, sugar-free pudding with a dab of Fat-free Cool Whip
A smoothie made with fat-free yogurt (frozen or not) blended with fruit and a little bit of skim milk
94% fat-free butter flavored microwave popcorn (about 4-5 cups)
Skinny Cows (Ice Cream Sandwiches)
Amy
---
Take the Next Step
Better than coupons. Shop smart with great cash back offers on your favorite brands at your favorite grocers. Join Ibotta today.
Continue to trim food costs by visiting our food & groceries section to get tips and tools for keeping more of your hard-earned dollars in your pocket.
Could spending 5 minutes reading a newsletter twice a week save you time and money every day? Dollar Stretcher Tips readers think so. Subscribe and find out how many ideas stretch your day and your dollar! Subscribers get a copy of our ebook Little Luxuries: 130 Ways to Live Better...For Less for FREE.
Tools for Reducing the Food Budget